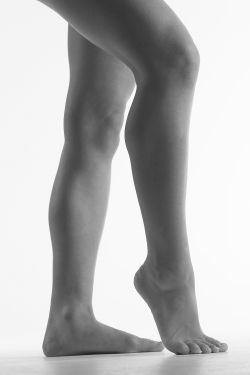 The whole world has heard of arch supports, custom insoles or orthotics. They are as common as sliced bread or canned soup. And most of them are fairly worthless. Why?
The foot is actually a complex machine that depends on all of its 26 bones and even more joints to work in harmony. When it works as designed, the foot is capable of remarkable things which all help insure not only pain-free health of the foot, but the parts up the chain, including ankles, knees, hips and spine. The foot unwinds to absorb shock as the heel strikes the ground, changes shape to accommodate to varied terrain, then winds back up to be a firm, propulsive lever to advance forward.
There are two basic states of the foot that should be very familiar: arch up and arch down. The arch down state happens when, after the heel strikes the ground, the foot unwinds inside and the arch does a free fall due to gravity. Most people are able to do this so well they overdo it. More on this later.
The arch up state comes next, because that is what makes the foot a rigid lever for push off. The foot must wind back up inside to raise the arch and stiffen itself. If the arch stays down you have to propel yourself forward with a mushy foot. That is not only tiring because your muscles have to work harder, it leads to the common foot pains and deformities that afflict millions every day: bunion, plantar fasciitis, and metatarsalgia to name a few.
The arch down state is important to absorb shock and adjust to uneven floor surfaces. But when it is overdone, the arch can't get back up. Going down hill is easy, but how does it get back up, into the arch up state? About 90% of the population can't get back up enough to have normal foot function. Assisted by gravity, body weight, muscle weakness and hard floors, the foot learns to unwind and flatten the arch ever closer to the ground, getting flatter with age. You may have heard this called over-pronation, which is just a fancy name for flat, flexible feet.
A long time ago, people tried helping others with very flat feet, by devising platforms that would fit in their shoes under their feet and hold up their arches. The only problem was they used solid steel, wood and solid chunks of leather -all of which felt like rocks under their feet. So common medical practice abandoned the idea of holding the arch up. If nobody could tolerate it, what's the point?
So to this day, the most common approach to helping the flat foot avoids direct arch contact and control. Combinations of cushions, wedges under the heel or forefoot are used to try to control the flattening foot -all with undersized or minimal arches. This is why most major studies have shown that typical custom foot orthotics work no better than what you might buy off the shelf at the drug store or supermarket.
For detailed information, visit: www.solesupports.com